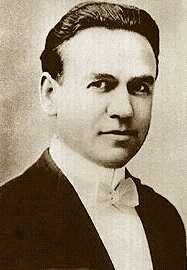 Vernon Dalhart was born as Marion Try Slaughter the Second on April 6, 1883 in Jefferson, Texas. He was named after his grandfather, who was a notorious bully and Ku Klux Klan member. His father, Robert Slaughter, and also a bully, was a small rancher outside of Jefferson. Here Dalhart learned to ride and shoot and to play the harmonica and Jews harp. All these years, his mother's brother, Robert Castleberry, felt his sister was being mistreated and he continually quarreled with Robert Slaughter. The feud grew worse over the years and in 1893 the quarrel ended in Bob Castleberry shooting Bob Slaughter.
Within a few years Try and his mother had moved to Dallas and Try was studying music at the conservatory and working to support himself and his mother. In 1902 he married Sadie Lee Moore and by 1904 he had two children, Janice and Marion Try the Third.
Try's mother remarried in 1905. No longer feeling responsible for his mother, Try soon moved to New York to study opera. He studied opera at night and worked in a piano warehouse during the day for the next few years. In September 1911, he made his first known attempt to record for Edison.
At this time he was listed as a minor principal in an English language version of Puccini's opera "The Girl of the Golden West". As a principal he need a name for program listing. He picked a name from two west Texas towns where he had once worked as a cowboy. This was the first appearance of Vernon Dalhart.
The opera toured across Canada and the USA over the next 121 days. After his return, he spent the next 18 months on the road with other opera companies. In mid 1913, he returned to New York to become a member of the Century Opera Company. Still a minor principal he sang in both English and French or Italian as the opera required.
Dalhart left the Century Opera Company before the end of the season and began rehearsals for the part of Ralph Rackstraw in the Hippodrome's version of H.M.S. Pinafore. The show opened in April 1914 to rave reviews for both the show and Dalhart. This was Dalhart's most outstanding stage success although he continued performing on stage for many years.
While waiting for the fall tour of H.M.S. Pinafore, Dalhart made another attempt to record for Edison. The tests were shelved and forgotten. Upon returning from the tour in January 1915, Dalhart again tested for Edison. The tests were again rejected. However Dalhart's name appeared in the EDISON DIAMOND DISC CATALOG for June 1915 as an artist who will make Edison records. It was still 18 months before the first record appeared.
When it did appear, it was from Columbia, not Edison. The record was JUST A WORD OF SYMPATHY, issued in December 1916 as Columbia A-2108. This was followed the same month by two records from Emerson. Edison's first Dalhart recording was CAN'T YOU HEAH ME CALLIN CAROLINE? issued in 1917. (Blue Amberol 3185, Edison Diamond Disc 80334). Even before the record was issued, Edison gave Dalhart an exclusive two-year contract.
Dalhart was also soon deeply involved in Edison Tone Test Tours and continued these even after his Edison recording contract was finished. It was on a test tour that he met Adelyne Hood. Although now free to record anywhere, Dalhart spent so much time on the tone test tours that he did almost no recording in 1920. In 1921 and 1922 his recordings picked up and with his tone test tours, Dalhart was soon able to buy a house in Mamaroneck, NY and move out of their Bronx apartment.
Dalhart's recordings finally made it overseas in 1922. I'LL STAND BENEATH YOUR WINDOW AND WHISTLE was issued on Actuelle in England and HAWAIIAN RAINBOW was issued on a French Pathe.
Even with radio cutting into the record business, Dalhart still managed to cut over 100 sides in 1923. Like most freelance artists he was singing almost every style of song from Irish to Negro to popular. By 1924 he was doing even better.
Sometime during the year Dalhart heard Whitters recording of THE WRECK OF THE SOUTHERN OLD 97 (you can listen to part of it below) and talked the Edison company into letting him record it. In August at Victor's request he made the record for Victor, putting an old folk song obtained from his cousin on the reverse side. THE PRISONER'S SONG became a runaway hit. Dalhart eventually recorded the song 18 times and it was issued on 53 labels in the USA. It also became a hit in Australia and Canada. .
Once THE PRISONER'S SONG became such a hit, Dalhart started singing country songs almost exclusively. The next year, when guitarist Carson Robisons contract with Victor expired, he and Dalhart teamed up and were soon turning out country hits for every record company in the US. In 1927 Dalhart fired their violinist and hired Adelyne Hood as violinist and singer. Although they were still doing well in 1928, Robison was not too happy with Dalhart. In addition, the competition was growing stronger with artists like The Carter Family and Jimmy Rodgers now recording.
Dalhart decided to accept an exclusive two-year contract from Columbia to record for their low price records. Robison thought it was a bad contract and refused to sign, leaving Dalhart on his own. However, Adelyne Hood continued to record with Dalhart for the next few years. Soon Dalhart also signed a two-year recording contract with Edison. Dalhart managed to complete both contracts, with Ms. Hood and hired musicians.
By the time the contracts had ended, the stock market had crashed, and Edison went out of the record business. Between the depression and free radio, the recording business became almost non-existent. Many country artists moved to the radio and personal appearances to supplement their income. Dalhart did no personal appearances, but with little recording over the next two years, he finally appeared on a radio program in 1931 with Adelyne Hood. Sponsored by Barbasol, the program was on the air less than two months when Dalhart and Hood left the show and headed for England.
Many writers claim that Dalhart and Hood made personal appearances in England, but there is nothing showing where or when they made such appearances. We do know that they made eight recordings in London, four of which were issued. One, THE RUNAWAY TRAIN, later became the theme for a British radio show and became popular enough to be reissued in Britain in the 1940s.
After returning to the States, Dalhart and Hood made a few more recordings, then Ms. Hood went on to a career on the radio using the name Betsy White. Dalhart made a few recordings but by 1934 the record companies were no longer interested. In 1938, Dalhart finally went back on the radio along with personal appearances in upstate New York. Hood, as Betsy White appeared with him on stage and radio, playing the violin and singing. The radio program didn't generate much interest so it was soon cancelled. The two did make several personal appearances before returning home.
Finally in 1939, Dalhart signed an excusive recording contract with RCA-Victor and cut six sides with a hired back up group. The records didn't sell well and one, THE LAVENDER COWBOY, was barred from the air. Dalhart never recorded again. Instead he took a security job in Bridgeport, Connecticut during the war.
After the war he tried teaching, singing, and voice placing, but without much luck. He was a night baggage clerk at Barnum's Hotel in downtown Bridgeport when he had a heart attack in January 1948. He never fully recovered and died from a second attack on 15 September 1948. He is buried in Bridgeport's Mountain Grove Cemetery. His gravestone reads MARION TRY SLAUGHTER, SR, APRIL 6 1883-SEPTEMBER 15 1948.
In 1970 Dalhart was inducted into the Nashville Song Writers Hall of Fame. Almost certainly it was due to THE PRISONER'S SONG. In 1981, Dalhart was finally inducted into the Country Music Hall of Fame. In 1998, Dalhart received his latest award when his recording of THE PRISONER'S SONG was inducted into the Grammy Hall Of Fame. Even with these awards, he still seems to be overlooked as a prominent pioneer of country music.
-Jack Palmer
IF YOU ARE A VERNON DALHART FAN AND/OR WANT TO KNOW MORE ABOUT THIS AMAZING ENTERTAINER,
YOU MUST READ THIS BOOK:
Vernon Dalhart, First Star of Country Music, by Jack Palmer was released in October. This first full length biography of Vernon Dalhart covers his life and career from his birth in Jefferson, Texas in 1883 to his death in 1948. It includes his early career as an operatic tenor through his early recordings of popular songs to his years as the first country music star to his last days as a war worker in Bridgeport, Connecticut. In addition the book contains many previously unpublished photos and a 100 page discography of every known Dalhart record release. Copies may be obtained direct from the publisher www.mainspringpress.com or Jack will be happy to sell you an autographed copy if you contact him at vdalhart@prodigy.com .
Check out this great Vernon Dalhart CD from Amazon.com.
email contact: webmaster@vernondalhart.com.